Program Structure
The master program starts in the winter term of each academic year. It consists of modules, which are usually block-structured. The program is equivalent to 120 ECTS, (one ECTS equals around 30 hours of workload) according to the European system.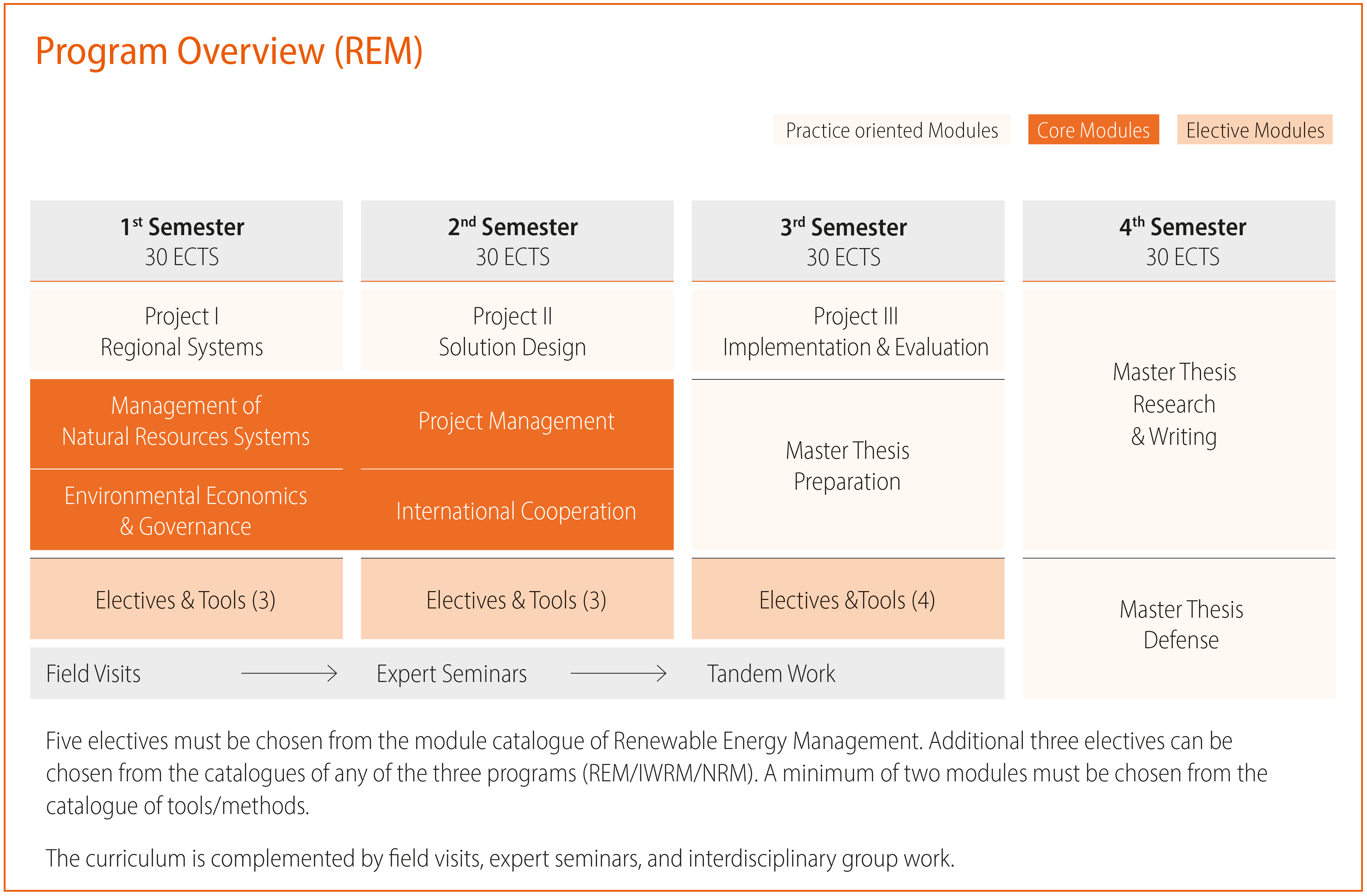 The first, second and third semester consist of core and elective modules, the fourth semester is dedicated to master thesis:
Core modules (compulsory modules)  cover 40 ECTS
Elective modules (compulsory optional modules from the catalogue "Method & Tools" and the thematic catalogues "IWRM", "REM", "NRM") cover 50 ECTS
Master thesis and colloquium cover 30 ECTS
Core Modules
Acknowledging the fact that participants have a wide range of professional backgrounds, core modules aim at providing the student with a general overview of different disciplines relevant to natural resources. The REM program follows the principle of sustainable development, which can only be achieved in consideration of ethical and social aspects. Therefore, such aspects play a fundamental role during the studies. In various courses students are encouraged to think and reflect critically.
Elective Modules
The elective modules are organized into "Methods and Tools" and three thematic blocks: "Integrated Water Resources Management IWRM", "Natural Resources Management and Development NRM" and "Renewable Energy Management REM".  Students select a total of ten elective modules from the respective module catalogue REM (minimum 25 ECTS), the module catalogue Methods and Tools (minimum of 10 ECTS), and a maximum of 15 ECTS modules from the two module catalogues of the adjoining master programs (NRM and IWRM).
Such multiple opportunities of elective courses choices are beneficial for the interdisciplinary nature of the student body.  Every student is supported in his way of specializing during the master program. Since resources management includes numerous cross-cutting issues, free choice of electives from the adjoining module catalogues related to land and water is highly important.
Thesis
The fourth semester is dedicated to the master thesis research which is addressing a present research or management problem. The thesis can be carried out in an African, Asian or Latin American country relevant to the student's specialization, possibly a local institution or company guarantee the practical orientation of the master research. Here students demonstrate their ability to analyze a problem as well as design, execute and document the related research. Hence, the student applies the knowledge and competencies he/she acquired in the previous semesters and demonstrates the ability to plan and execute a project systematically and independently.